Yesterday, I finished mixing and producing my latest project for New Realm. We began recording this 10 song album in September, and have been working at it ever since. It has been such a growing and challenging process, and in the end has yielded something truly beautiful. I am proud of all of us for the work we accomplished together as well as each person's dedication to the project. Today I slept in until about noon and a half, as I have felt like I have just finished a marathon! I'm sitting down this afternoon to relax, enjoy some coffee, and share about the recording process. Since we started, I have been keeping my Canon Ae-1 film camera with me at all times, capturing our times in the studio and in the mixing room. Here are some of our amazing memories shot through 35mm.
From the early days. September, in the early tracking stages. I remember when we discovered the Juno 106 in the back room of Chase Park. This piece of gear went on to shape a lot of the records' sound. I remember staying until 3:30am playing with the synths and pianos one night. I believe we composed the "Invitation Reprise" this night
Here's Drew Dotson, the bass player and all of the rest of the goons in the back. This is sometime in late September or early October. This is the Bloom Sounds studio, where I edit, mix and track keys and guitars for my records.
One of my favorite pictures. Bobby singing into my Avntone CV-12 and a Neumann U67. In the end we actually used a couple of takes from the CV-12 over the 67. Maybe there isn't much of a difference in $500 and $11,000 after all...
This is the back of Chase Park, where we tracked pianos, drums and bass and some of the guitars. pictured are Brian (drums) Will and Holly our interns, Drew (Bass) and Bobby (voice). I remember that we played football in the back this day to take a break from the project. playing football with 5 people is really hard
Here was our setup at 1093 in late October for vocals and piano. Here we were recording vocals with an original Neumann U67, RCA 77DX ribbon, and a Shure SM7B. One of my favorite mics to use on the piano is the Neumann RSM 191. One of my favorite sounds on the record is Bobby's voice on a song called "Keyholder" which has sort of a vintage warmth from the sound of the ribbon RCA.
Mackalie Davidson was a huge part of this project. Her vocals are on about half the songs on New Realm's project, and I also have to mention that she drove all the way down from Nashville to sing on the project. Her voice is featured on a song called "Peace Be Still," where her and Bobby sing a duet. This is one of the best sounding vocals I have ever touched on a song, them two together were such a gift. I remember that we used an original Neumann U47 on her voice, which didn't hurt the quality at all :)
We had an incredible group of singers come in to help us put a choir in the tracks. These are some of my favorite sessions because there is such a togetherness about it, everyone singing together. And then when we come together to listen how it all sounds in the mix... always a special moment. This was taken in late October.
Dango. I think this was my favorite day of making this record. This is Dango Forlaine, from Atlanta. New Realm met Dango at a camp over the summer and ended up collaborating with him to record a rap section on the album. Dango was such a joy to work with, so passionate and so easy to create with. Dango showed up, listened to the beat, and rewrote the rap right there on the spot. I was amazed. We ate BBQ for lunch that day, and geeked out over Kanye West, and had such a wonderful time together. I know we will cross paths again. Bobby and I drove him back to ATL late this night and ate Wendy's on the way home and talked about the purpose of life. Typical stuff.
making a record takes a lot of humility, patience, and focus. There is a lot of waiting, listening and attempting to communicate ideas that don't exist yet. I love this photo because it captures so accurately the grind of sweating the details. It is often like this.
decisions decisions. Brian Wallace (drums)
Guitar tracking day at the Bloom Sounds studio.Left to right: Bobby with glasses on, myself, John Dexter Burch and Evan Reece.
Kirsten Boss. a true boss. Kirsten threw down some amazing cello lines for the record for a song called "Divine Architect." This is us in late November, Bobby is working out the parts with her at Chase Park studio B. (taken on iphone)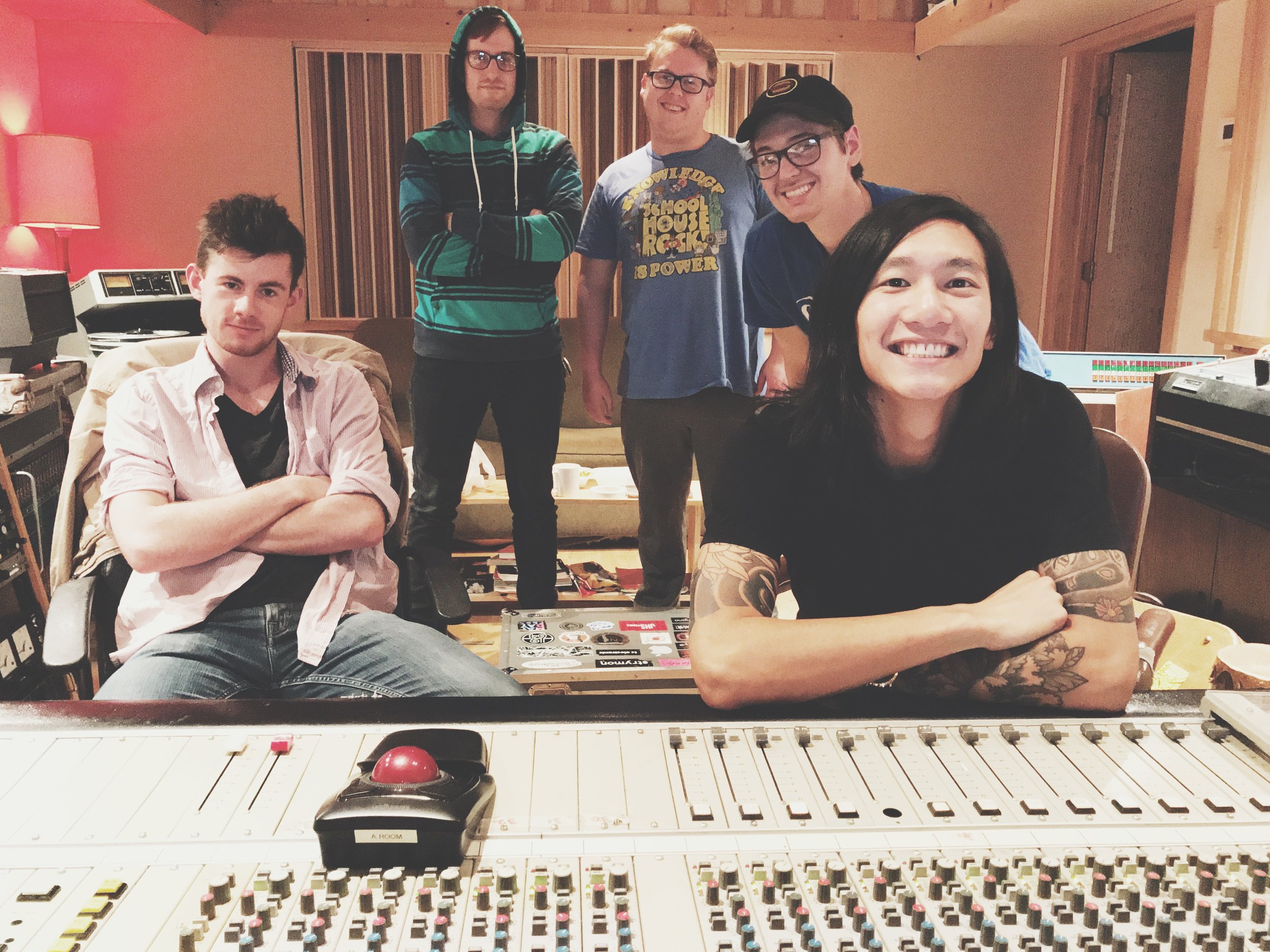 iphone self timer. The day we finished tracking. A great day indeed. Special thanks to Jeffery Vernon (far left) for being an amazing assistant engineer on this project. You're awesome man!
a wonderful crew. Late October.
Thanks for following along. It has been such a beautiful journey with these people! We are preparing to get the artwork done, and the album is being mastered now. I can't wait for everyone to FINALLY here this thing! I am gearing up to record some of my own songs, as well as a spoken word artist named VAL who is flying in from Tulsa in early January to record his first record with Bloom Sounds. Here's to all that's to come.
Love, Andrew